GOV. OKOROCHA CHARGES THE NEWLY APPOINTED PERM. SECS. TO BE ALIVE TO THEIR RESPONSIBILITIES
... READS RIOT ACTS FOR NON PERFORMING OFFICERS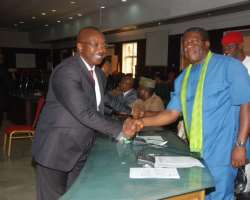 Imo State Government today swore-in five newly appointed permanent secretaries in Sam Mbakwe Expanded Exco Chambers, government House, Owerri.
Governor Okorocha who was represented by his deputy Prince Eze Madumere after swearing-in exercise charged the new permanent secretaries to be alive to their responsibilities especially in effectiveness in implementation of policies and programmes of government.
The Imo number two citizens admonished, in his words, "to whom much is given much is expected". He said so much is expected them to deliver on their duties and to maintain high level of discipline and objectivity as the Governor shall be willing and ready to ensure maximum discipline in the service.
Speaking further, he explained the adoption of equitable approach in appointing permanent secretaries, which creates room for all the twenty seven local governments in Imo State are factored, contribute their quota and have a sense of belonging.
He however congratulated then for having been found worthy by the Governor of Imo State to be take full part in Rescue Mission Administration.
Responding to Imo State Government gesture in their appointment as permanent Secretaries, Emeka Ogbunga, an estate Surveyor in the Ministry of Lands who thanked the Governor Okorocha, represented by his deputy, Prince Madumere, for finding them worthy saying he made them full members of Rescue Mission.
He promised the government they are ready to go all hug in appreciation of the promotion by working hard since the administration is known for hard work and speed in delivering to the people.
He however commended Owelle Rochas Okorocha led administration for her giant strides in all ramification of human lives and pledged they will put in their best to contribute in keeping the flag of Rescue Mission performance flying.
Among the civil servants who got elevated to Permanent Secretaries are Basil Emeka Obunga, an estate surveyor, Mr. Samuel Mahakwe Okoro, a registered Town Planner, Charles Chinyere Osigwelem, chartered accountant, Mr. Chinedum Ajoku, Hydro Geologist, Nkwere and Mr. Obi Ejeshi, Chartered Accountant.
UCHE ONWUCHEKWA
SA (MEDIA) TO THE DEPUTY GOVERNOR
IMO STATE
His Excellency, Prince Eze Madumere, MFR in warm handshake with one of the five newly appointed Permanent Secretaries after oath of office and Swearing-in exercise, Mr. chinedum Ajoku at Sam Mbakwe Expanded Exvo Chambers, Imo Government House, Owerri earlier today.
Imo Deputy governor, Prince Eze Madumere, MFR, flanked by the Secretary General of Imo State Government, Prof. Anthony Anwuka on his right, Chief of Staff, Govt House, Sir Jude Ejiougu on his left and five newly appointed Perm. Secs after Swearing-in in Government House, Owerri.