December 18, 2014

| AMEBO
Is Yemi Alade Pregnant For Alex Ekubo?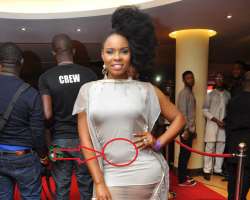 In recent times, there have been rumour trailing the duo of sexy singer, Yemi Alade and charming actor, Alex Ekubo. Tale-bearers claim Alex and Yemi are deep in a romantic affair together.
At an event held over the weekend in Lagos, Yemi Alade and Alex Ekubo were both at red carpet and pictures from the ceremony show what looks like a protruding stomach of Yemi Alade.
This has caused some rumour mongers to say Yemi Alade may be carrying Alex Ekubo's baby.
Both entertainers have denied having any intimate affection for each, but Alex once described Yemi Alade as his best friend, who is very nice and understanding.
"Yemi is vibrant, she's a breath of fresh air, and she's young, creative and talented. Have you seen Yemi dance? I've been in two of her videos and she is my darling, a sweetheart and there are two things I don't talk about; they are my finance and my relationship," these were inspiring words used by Alex Ekubo in describing Yemi Alade.