Yvonne Nelson Fights Journalists At Majid Mitchel's Mum's Funeral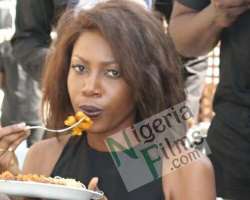 Funerals are specialized occasions that are characterized predominantly by such calm and serene atmosphere but over the weekend , the well- attended funeral ceremony for madam Paulina Afi Olabode Olympio, Mother of actor Majid Michel , was nearly disrupted by fellow actress , Yvonne Nelson.
The ceremony went on peacefully until it was time for some photo shoot with Majid, his family and his legion of celebrity friends who all came to support him.
In the course of the picture- taking , when the ,media men including Nollywoodgists.com reporter (Mustapha Inusah)cameras were snapping away, taking separate photographs of the celebrities in attendance, Yvonne shouted and warned, that nobody should take a photograph of her.
Her reason, she's not on a good terms with some media houses and that, she wouldn't like her pictures to be used in their platforms.
"Me and some media men are not on that play grounds: we are not on good terms so I don't know why they should be snapping me pictures" she said angrily.(Razz Newspaper)
An obviously agitated Yvonne Nelson also pointed out that, some media men deliberately tarnish the reputation of personalities and she's one of such and she didn't mince words expressing her frustration.
" some media men go round destroying you and after destroying you, they see you and want to smile with you, why should you snap me pictures ? she snarled at the media personalities present".
The attitude of the actress caused some media guys to exchange some words with her with one media man shouting back at her: " The media houses you are not in good terms with are also not on a good terms with you so please keep Quite.
The situation seemed to be getting out of hand until the head of the Ghana movie Awards foundation, Fred Nuahmah , stepped in to save the day be alerting the media men to ignore the disturbance caused by Yvonne Nelson to exercise patience and try focusing on the agenda of the day.