17 Years After Ghastly Accident, Yinka Ayefele Is Thankful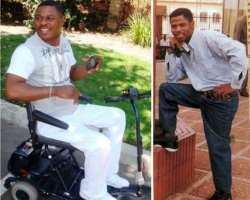 Tungba Gospel music artist, Yinka Ayefele is appreciating God today as it marks exactly 17 years that he has been confined into a wheel chair after a ghastly motor accident that almost took his life in 1997.
The Ekiti-born singer, who spent up to 9 months in the hospital after the accident said he would forever be grateful to God as the accident served as the turning point to his musical career.
In his message, Ayefele said: "REJOICE AND THANK GOD WITH ME. the journey started exactly 17yrs ago, it was on Friday December 12th 1997. On my way to Abeokuta where I had that ghastly motor accident. it was indeed MY TURNING POINT. "ODUNMBAKU" I will for ever be grateful to you my Lord. Thank you all for your love, support and encouragement. When there is life there is hope."
Recall that Ayefele's musical career did not begin until after the fatal accident. The situation after the accident led to the release of his first album 'Bitter Experience' which changed his career and made him an household name in Nigeria.