GAME ON: LANRE DA SILVA AJAYI AND DANIEL AMOKACHI TAKE DEBATE TO THE FUTURE AWARDS AFRICA 2014 TO DEFEND THEIR PASSION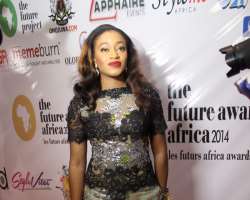 The rivalry between ex-Nigerian national Daniel Amokachi and fashion icon Lanre Da Silva Ajayi went to a whole new level on Sunday December 7 as both parties squared off on stage at The Future Awards Africa 2014.
The two team captains defended their passions before the stellar audience and spoke of the opportunity Malta Guinness had provided by creating a platform to take Naija further.
Looking every bit the fashionista, Lanre Da Silva was sporting one of her own designs while Daniel was not to be outdone in his smart suit.
They both expressed their delight for what TFAA stands for which is recognizing people who have excelled in the pursuit of their passions.
This is similar to the underlying theme of the Game On reality show created by Malta Guinness which is about fueling the rise of Naija through the passion of the people. The team captain for fashion, Lanra Da Silva Ajayi also had one of her dresses auctioned off during the event to help raise money for the #StopEbola campaign. The dress fetched the sum of N1million naira bought by celebrity blogger, Linda Ikeji.
Lanre expressed her delight that a piece born from her passion was able to contribute to the campaign. " I'm honoured to be part of the #StopEbola campaign. This is what I am talking about, fashion can make a bold difference" said Lanre. The two team captains called for support for their various passion from the audience #GoFashion vs #GoFootball.
Which passion will best fuel the rise of Naija? Get behind your passion. #GoFashion or #GoFootball. Have your say and get involved in the conversation at Facebook.com/MaltaGuinness. You can also follow the conversation on Twitter: @MaltaGuinnessNG.
About Red Communication
Red Communication is a PR & Communication firm under the parent company, RED. An innovative media group focused on Africa, RED's vision is to excite and empower an evolving generation through the media's limitless possibilities. Built across tools and platforms, its Communication Division holds Red Communication, Red Marketing and Small & Medium, and YouthConnect; and its Content Division holds the Y! brands, including Y! TV, Y! Magazine, YNaija.com, Teen Y!, Y! 2015, the Y! Tech 100 and the Y! Annual Black Ball/Y! 100 Most Influential List.
It also anchors a development firm, The Future Project Africa, which co-presents Africa's leading youth platform, The Future Awards Africa, and other projects including the Nigeria Symposium for Young & Emerging Leaders and The Future Enterprise Support Scheme.