We'll Miss Fashola In Government—Dammy Krane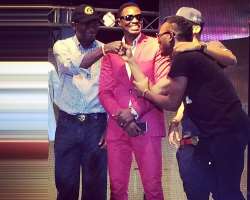 Hypertek Records artiste, Dammy Krane, seems to be in a depressing mood because the Governor of Lagos State, Babatunde Raji Fashola, from May 29, 2015, would no longer be number one citizen of the state.
Fashola has used his required eight years in office for a particular position as stipulated by Nigeria's 1999 Constitution as amended. He has been in government since 2007 and has also reformed the metropolitan city.
Dammy Krane disclosed that he would miss the governor after he leaves office in 2015.
"We are already missing our outgoing Gov Fashola. Sir, on behalf of all entertainers, Lagosians and your son @dammy_krane we say very big thank you to your Excellency and his entire cabinet for an excellent turn around and reformation in Lagos State," he wrote on a social media platform.
The singer is known for his melodic voice, engaging lyrics and his exciting genre of African alternative music.