F*ck Your Award--Burna Boy Fumes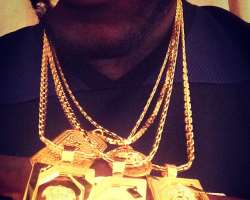 Nigeria's singer, Burna Boy, is not in any haste to get an award as he has placed more priority on his music over any other thing in life.
The singer whose recent effort 'Check and Balance' track is receiving massive airplay and numerous downloads, just got himself new Gold chain and has being flaunting it everywhere possible.
Though, he could have bought it from Malaysia where he went to perform along with wandecoal, Burna Boy stated that his attitude right now is to take care of himself and not bothered about awards.
Hmm, very hard saying from the singer, "My attitude right now. Fuck an award I got yo rent on my neck. #ignorant as fuck."