GET READY! BOLANLE OLUKANNI, ZAINAB BALOGUN, DENOLA ADEPETUN AND ZINA ANUMUDU ARE THE RED CARPET HOSTS FOR THE FUTURE AWARDS AFRICA 2014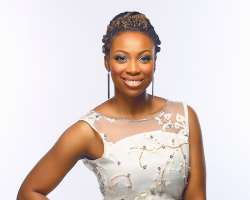 Africa's biggest youth event, The Future Awards Africa (TFAA) 2014 has announced the red carpet hosts for its 2014 edition: they are Bolanle Olukanni, Zainab Balogun, Denola Adepetun and Zina Anumudu.
Bolanle Olukanni and Zainab Balogun are currently Africa's television darlings.
Olukanni, currently the co-host of internationally syndicated talk show, Moments with Mo; has seen her star in the entertainment industry rise this year; hosting the ELOY Awards recently.
Zainab Balogun, co-host and co-producer of widely popular lifestyle show, The Spot has enjoyed a memorable 2014, venturing into film and fashion.
Denola Adepetun and Zina Anumudu, style enthusiasts are fashion's generation next. Both fashion bloggers, they have defined the culture for fashion in the past year.
The Future Awards Africa 2014 will be broadcast live, primetime, on award-winning TV station, Channels Television - from 7.30 - 9.30pm.
The black-tie event holds on Sunday, 7 December at the Intercontinental Hotels in Lagos, Nigeria. It is strictly by invitation.
The Future Awards Africa 2014 is headlined by UBA and presented in partnership with Vitafoam, Lagos State Government, Etisalat, Microsoft, Access Bank, the Lagos Internal Revenue Service and the Tony Elumelu Foundation.
Official Media Partners are EbonyLife TV, AfricaMagic, Ventures Africa, and Y! Africa. Official Online Partners are MemeBurn, BellaNaija and 360nobs.
The official bloggers for 2014 are LindaIkeji, Omojuwa, LadunLiadi, Olorisupergal, Ameyaw, NigeriaNewsDesk and GidiTraffic. Country partners are The Trent, Information Nigeria, News Wire Nigeria, SabiNews, GHJOY and Pulse.ng. Buzz Partners are Style Vitae, StyleMeAfrica, Fashpa.com & FAP.
Cool FM is the host radio station. Channels Television is the host TV station.
For more information, visit @TFAAfrica on Twitter/Instagram or the website www.thefutureafrica.com/awards The official hashtags for the 2014 awards are #TheFutureAwards and #TheFutureAwards2014.
ABOUT THE FUTURE AWARDS AFRICA
The Future Awards Africa has been called the 'Nobel Prize for Young Africans', and the 'most important youth awards' by Forbes. It is a set of prizes given annually to celebrate and accelerate innovation, creativity and enterprise amongst young Africans aged 18 – 31. It has produced over 150 winners and over 1500 nominees since its first edition in 2006.
It is presented in conjunction with The Future Project, which has a mandate to build empowered citizens across Africa, through (inclusive) enterprise and (active) citizenship. This focus on Human Capital Development is informed by our value proposition: Africa's growth needs a generation of young people who are gainfully employed and able to demand and secure better leadership.
Our projects include Aiki.ng, an employability portal presented with Microsoft; the Nigeria Symposium for Young & Emerging Leaders, #StartupsAfrica, Intern4Jobs, The m-Hub, TheFuture Enterprise Support Scheme and The Future Africa Awards & Summit, described as 'The Nobel Prize for Young Africans'.
With a network of funders and partners including the Tony Elumelu Foundation, the US Government, First Bank, MTN, HP, the Nigerian Government and the British Council, our work has spanned Nigeria, Ghana, South Africa, Tanzania, Liberia, Burkina Faso, Uganda, Malawi, Cameroon, Somalia, Equatorial Guinea, Ivory Coast and Kenya.
Founded by the Chude Jideonwo and Adebola Williams, TFP is supervised by a Global Board of Advisors drawn from Africa, Europe, North America and the Middle East, including the Coordinating Minister of the Nigerian Economy, Dr. Ngozi Okonjo-Iweala; Senior Economic Advisor with the Open Society Foundations, Dr. Obiageli Ezekwesili; co-founder of ONE, Jamie Drummond and the Chief of Cabinet with the Africa Development Bank, Anne Kabagambe.
BOLANLE OLUKANNI
ZAINAB BALOGUN.JPEG
ZINA ANUMUDU
ADENOLA ADEPETUN