9Ice Shares His New Family Photos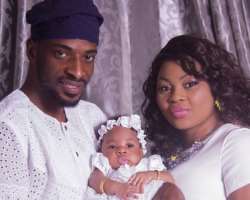 Mavin records baby, korede Bello, has won so many fans for himself in a short time as he now has about 50344 followers on his Instagram page with just 546 posts.
The talented singer has being widely commended for his good vocal ability which shows is uniqueness in his delivery. No wonder he is adored by many especially the ladies who scramble to have a touch of him at events.
Korede (Mr. Wink) who released his latest song 'Cold outside,' some months back, is currently putting all hands on deck to have a good video for the song.
For such a video to have a good delivery for the viewers, the singer had to employ the fighting hands of the Bruce Lee of visuals, kemi Adetiba, to bring on her manipulating skills to show the cold feelings of the song. The video is due to ready by the end of year 2014.
Meanhile, Kemi who also wishes to known as the Rambo of story telling through her visual ability, was full of encomium for the young lad whom she describes as the next big thing to happen in the Nigerian music industry.
"Meanwhile... On set last night, @koredebello was just tensioning all the ladies. #NextBigThing #FroBoy #Doro Mega Super Star Oh #Set Life Is The Best Life," she said.
She added that, "He's soooooooooooooooo AMAZINGLY talented and a joy to capture in motion. #KoredeBello #ColdOutside #RockStar #KemiAdetibaVisuals"