Nollywood Actor Nabbed Over Kidnap Of Female Banker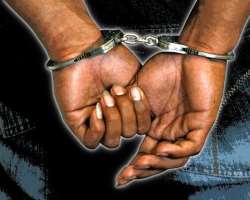 An up and coming actor in the Nigerian film industry called Eddie Nnaji has been arrested by operatives of the Federal Special Anti-Robbery Squad (FSARS) for allegedly abducting a female banker. The role-interpreter was nabbed along with two others Osas Osaide and Patrick Udomikin.
He was also accused of involving in armed robbery.
Nnaji, also a gospel singer, was reportedly apprehended while he was sharing the loot received from his captive's family with others.
They were said to have kept the woman in an uncompleted building for four days and sold her Toyota Camry car for N250,000 in Surulere, Lagos. The actor was said to have got N100,000 as share from the sale of the automobile.
According to reports, Nnaji confessed that, "We sold the banker's jewelry for N8,000, while we disposed her pair of shoes for N3,700."
Nnaji was further reported to have kidnapped the female banker with his gang at Mile 2 in Lagos using toy guns.
"We held the woman hostage for four days in an uncompleted building in Mowe area of Ogun State until we collected ransom before the police rounded us up.
"We bound her hands and feet and tied her mouth so that she would not escape or scream," the actor was quoted in reports to have said.
They were reportedly arrested in Mowe area of Ogun State after a tip-off.
Nnaji, who is 28, has acted in 'The Eves', Witches Club', 'Friday Night', 'Palace Club' and 'Mountain High'.
In 2008, he released a gospel album entitled 'Jesus Album' and 'Lifted High' in 2014.© 2014Nollywoodgists.com