Emem Isong Finally Opens Up About Secret Marriage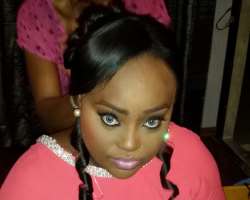 Without doubts, Emem Isong is one producer whose name precedes her. Ever since she came into
Nollywood, she has remained behind the cameras leaving her works to speak for her.
Few months ago, the Akwa-Ibom state born outstanding movie producer who recently cut her first teeth in the movie directing world with her yet to be premiered flick; The Champagne', was reported married.
But for the reasons best known to the dark and beautiful mother of one, she decided to make it a secret marriage irrespective of her social status.
Yesterday, November 28, at the premiere of the movie 'Birthday Bash' Nollywoodgists.com spotted Emem radiating and glowing with so much exciting written all over her face.
The always welcoming veteran producer without hesitation shared the secrets behind her smiles.
"I have been so happy and excited but at the same time stressed, because of my latest movie coming out soon. Seems that's why I have shed some weights. I have been an actress, producer but the movie 'Champagne' is the first ever movie I directed. It was indeed a very horrible experience, but I must tell, it was worth the stress so I'll try again next year."
Nollywoodgists.com asked further to know if its just work or her new marital status that's making Emem look so dazzling.
" Well, I don't know about that. Who told u I am married (laughs). I don't want to talk about it now until the day of 'The Champagne' premiere, I'll tell you all you need to hear. The movie explores the concept of open marriages between couples. It has lots to teach everyone," she gushed.
Emem Isong has been in the entertainment industry for over a decade, with recognitions from both home and abroad. She equally made some Nollywood stars that have become part of the most sought after in the industry today.