Christians will Not Understand Why I Post Raunchy Pictures……..Maheeda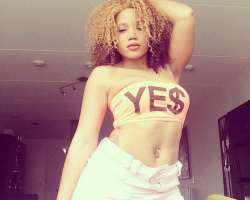 Nigeria's singer and model, Caroline Sam better known as Maheeda, has opened up with Encomium magazine about excess exposure of body despite being a born again as she claimed to be.
The singer disclosed that as a Christian, she does not have any problem exposing her body as it is what her job demands but feels sorry for the Christians whom she says do not understand her.
She noted that she sees her actions as right since it is what she has to do to gain attention especially when it comes to the nature of her job with the belief that she is favoured by God.
"He loves me more than my 'nakedness'. If you see God as a Father because He sees you as a daughter, I would not because of your nakedness want to ruin you or kill you. That is how I see God. He understands me. He hates me but He loves me at the same time," she said.
Speaking on her source of wealth, the singer disclosed that she makes her living from all avenues open to her such as shows, invitations. "Some people invite me and I get paid just to sit down and drink, take pictures for birthday parties, weddings and many more. Sometimes, I perform, sometimes I don't. I also do modelling. In Holland, I did two modelling jobs, one cost about N2 million and the other was close to a million naira."
She added that she is into modelling where she has to model unclad and sculpture modelling where one is moulded naked.