Obasanjo blasts Jonathan over corruption, poor governance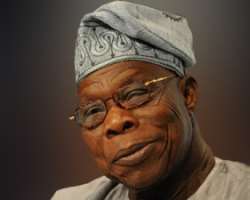 Former President Olusegun Obasanjo on Wednesday blasted President Goodluck Jonathan administration and the National Assembly for promoting corruption and poor governance.
'For quite some time, the covered and hushed-up corruption has had its toll on the economy,' Obasanjo said.
He said the increasing corruption under Jonathan had damaged the economy, warning that 'in the future, we will have a budget that cannot be funded.'
'We may have to borrow to pay salaries and allowances. Revenue allocation to states and local governments has already drastically reduced. Capital projects at all levels may have to be drastically cut or stopped,' he added.
The ex-President spoke in Abuja at the presentation of books by a former Chairman of the Independent Corrupt Practices and Other Related Offences Commission, retired Justice Mustapha Akanbi. Obasanjo was the chairman of the occasion.
He said, 'Nigeria cannot continue to indulge in disdain of truth, elevation of corruption and incompetence, reinforcement of failure, condonation of heinous crimes and celebration of mediocrity, tribal bigotry, fomenting violence and anti-democratic practices in states and National Assembly.
'Corruption in the National Assembly also includes what they call constituency projects, which they give to their agents to execute, but invariably, full payment is made with little or no job done.
'In all these, if the executive is absolutely above board, the offending members of the National Assembly resort to subtle or open threat, intimidation and blackmail of the executive.'
On the escalating insurgency by the violent Islamic sect, Boko Haram, Obasanjo said Jonathan's delayed understanding of the menace posed by the group caused the worsening insecurity in the country.
He said, 'Boko Haram is not simply a menace based on religion or one directed to frustrate anybody's political ambition. It is essentially a socio-economic problem that is tainted with religion. It is a gargantuan danger to the nation and to all Nigerians.
'Initially, President Jonathan's understanding of Boko Haram phenomenon suffered from wrong reading and wrong imputation. That is what led us to where we are today.
'It took even the President more than three years to appreciate and understand that it is a terrible mix of poor education or lack of education; misinterpretation of what Islam and the Quran teach and stand for, poverty, unemployment, injustice, drug, gun trafficking, human trafficking, fallout from Libya, revenge, frustration, struggle against inequality, imitation of international terrorism leading to training and part of the absorption by international terrorist groups and general poor governance, including corruption. I have always maintained that the solution to Boko Haram or any organisation like it lies in the application of carrot and stick approach.'
However, Obasanjo did not go unchallenged at the forum as the Oba of Lagos, who was also the chief launcher of the Akanbi books, Oba Rilwanu Akiolu, accused Obasanjo of failing to account for the barrels of crude oil sales despite boasting he would do so before he came to power.
Akinolu said Obasanjo, before he assumed the Presidency in 1999, pledged to ensure transparency in the Nigerian oil sector 'but later reneged on his promise as the oil sector was besieged with quantum corruption.'
'Obasanjo failed to address the problems with the number of crude oil per barrel produced daily; how many barrels are exported for sale as well as the use of the proceeds', the monarch alleged.
The ex-President fired back that it was during his tenure that allocation to states became transparent with the publication of monthly revenue to the three tiers of government.
He said his government 'also worked out modalities to enthrone accountability and transparency in the oil sector.'
Vice-Presient Namadi Sambo, who was represented by his Senior Special Assistant (Monitoring), Mr. Femi Oladele, commended Justice Akanbi's effort on anti-corruption and commitment to service.
He said by carving a niche for himself in the fight against graft, the jurist had left indelible footprints in the sands of time.
In his remarks, Akanbi observed that although there were allegations of witch - hunt during the Obasanjo administration, the ex-President never interfered with his job in the ICPC. - Punch.