Carlyle Group finally confirms $147m investment in Diamond Bank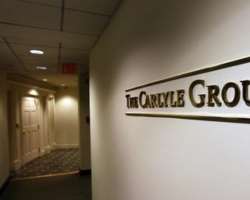 Carlyle Group, one of the world's largest private equity firms, has made an investment in Nigeria, spending $147m to take an 18% stake in Diamond Bank Plc. This confirms an exclusive report by THE CITIZEN a fortnight ago that Carlyle Group had ventured into Diamond Bank through the bank's recently-completed N50bn Rights Issue. A statement sent to THE CITIZEN by Catherine Armstrong of Carlyle Group specified that 'the rights issue improves Diamond Bank's Tier 1 capital, both strengthening its balance sheet and supporting the bank's continued growth plans. Proceeds will be used for the development of the bank's IT infrastructure, working capital support and the expansion and refurbishment of its branches.'
The statement quoted the Managing Director and Head of West Africa for the Carlyle Sub-Saharan Africa Fund, Genevieve Sangudi, as saying that 'Carlyle is very pleased to join the Diamond Bank Group as an investor. Diamond Bank is one of the most recognized retail banks in Nigeria, with a strong corporate culture, best-in-class management team, advanced technology, large retail franchise and innovative product and service offerings.'
The statement added that the Group Managing Director/Chief Executive Officer (Designate) of Diamond Bank, Uzoma Dozie, described the investment by Carlyle Group as 'a testament of the Bank's strong brand and success over the years, particularly in the Retail/SME space. We are confident that Carlyle's support will be fruitful and benefit all stakeholders. They bring global expertise in financial services and banking, having invested $4 billion globally in over 25 financial services companies, along with long-standing experience in emerging markets.'
'Diamond Bank also stands to benefit from Carlyle's extensive network of financial services specialists as we continue to strengthen our market position, expand our commercial and retail offerings and further enhance our operations. We are delighted to have Carlyle as a significant shareholder of the Bank', Dozie added.
Established in March 2012, the Carlyle Sub-Saharan Africa Fund (SSA) team makes buyout and growth capital investments in private and public companies from offices in Johannesburg, South Africa and Lagos, Nigeria.
The Carlyle SSA team, headed by Marlon Chigwende, focuses on transactions where it has a distinctive competitive advantage and can create tangible value for companies in which it invests, through industry specialization, deployment of human capital and access to Carlyle's global network.
The Carlyle SSA Fund and its affiliates have invested almost $300 million to date across a variety of industries, including logistics, mining services, retail and financial services, and across a variety of geographies, including Nigeria, Mozambique, Zambia, Tanzania, the Democratic Republic of the Congo and Southern Africa.
The Carlyle Group is a global alternative asset manager with $203 billion of assets under management across 129 funds and 141 fund of funds vehicles as of September 30, 2014. Carlyle's purpose is to invest wisely and create value on behalf of its investors, many of whom are public pensions.
Carlyle invests across four segments - Corporate Private Equity, Real Assets, Global Market Strategies and Solutions - in Africa, Asia, Australia, Europe, the Middle East, North America and South America. Carlyle has expertise in various industries, including: aerospace, defence & government services, consumer & retail, energy, financial services, healthcare, industrial, real estate, technology & business services, telecommunications & media and transportation. The Carlyle Group employs 1,700 people in 40 offices across six continents.
However, Diamond Bank Plc is a full service commercial bank in Nigeria with operations in West Africa and the United Kingdom.
As of September 30, 2014, the Bank had over $10 billion of total assets and $7 billion of customer deposits.
The Bank is recognized for its market-leading retail franchise, having extended loans to more than 120,000 MSMEs in Nigeria since 2009, and innovation in e-banking (Diamond Mobile app) and banking the un-banked (Diamond Y'ello account and BETA banking proposition).
Diamond Bank has won several awards, including IFC's Award for Best Issuing Bank in Sub-Saharan Africa, Best Credit Card in Nigeria, and Best Bank in Oil and Gas Investment. In 2013 the bank was declared one of eight Systemically Important Financial Institutions (SIFIs) by the Central Bank of Nigeria.
Since 2012, the bank has raised over $500 million in capital to support its growth, and issued a $200 million Eurobond in May 2014 to support long term trade financing.
The bank employs over 4,000 people in 286 locations across Nigeria, West Africa and the UK.