I've Not Cheated On My Wife Of 7 Years—Kenneth Okonkwo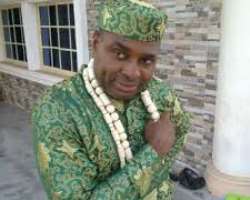 The entertainment industry has lately been under public scrutiny due to several negative reports emanating from that sector of the Nigerian economy.
If an entertainer is not accused of cheating on his partner, it would be about one walking out of his/her marriage also due to infidelity allegations.
However, despite these problems associated with the showbiz industry, superstar actor, Kenneth Okonkwo has been able to keep his marriage of seven years intact and he is working hard to keep to his marital vow of 'for better or worse, till death do us part'.
The actor, lawyer and politician, in an interview with City People, said he has not had any extra marital affairs.
He said despite meeting many pretty ladies on movie sets, God has helped him to ignore them, especially the tempting ones. He confessed that he has been tempted before to break his marital vow and close to cheating on his wife, but he overcame the enticement.