What More Do I Need O Lord?---Actress, Nadia Buari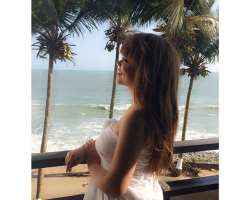 Ghanaian actress, Nadia Buari, might have kept quiet to see those that will remember her birthday but since she did not see any wishes, the actress decided to awaken her fans when she appreciated God for adding another to her in a faraway land.
The actress who was not ready to make the merriment her first priority, took a walk down the sea side all covered in a white material just to appreciate nature and how she was brought into the world.
As soon as the message was posted on her social media, her fans trooped in to send her birthday messages as usual.
Here is her birthday prayer below;
In a far far far faaaar away city...I turned a year older. Years spent so far in this world have been so amazing in my life. I've smiled, I've laughed, I've screamed, I've cried, I've been down, I've been up and above all, I'm grateful to God almighty . He deserves nothing but praise, praise and continuous praise. I'm more than happy for the blessings, mercies and favours he's bestowed on me and my family. I've been and will continue to share my joy with those who are less fortunate and share my happiness with those who need encouragement, share my laughter with those who have not heard any in such a long time, share my tears with those who have forgotten how to cry, share my faith and hope to those who have none. #Happy Birthday To Me #Scorpios Love."
"What more do I need O Lord? You've made my birth, right to the world and blessed me to become an evidence to Your providence. Where others contend for more in life, You make me content in life. Thank You for giving me the greatest gift I ever desired of You, I remain eternally grateful. #Scorpios Love"
Happy birthday dear from Nollywoodgists.com and may God continue to add many more years to you.
© 2014Nollywoodgists.com