Could Gen. Buhari be Dressed in Local Attire to Win Votes?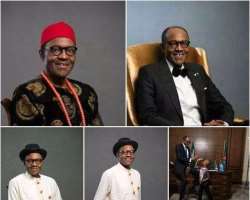 Entertainment is all about fun and relaxation just like culture is seen as the way of life of people. Nigeria is a multi-ethnic country with various religion and perception but with a common bound of unity.
Though there might some political tension in the country and several unrest in some part of the country, yet the fun aspect of unity and culture still prevail among the leaders. Just like the way the President of Nigeria, Ghana and Cote d'ivoire were dressed in the cultural attire of the South-South region of Akwa Ibom state during the opening of the Akwa Ibom international stadium.
One of the political pioneers in Nigeria to display is outfit is the All Progressive Congress (APC) Presidential candidate, Muhammadu Buhari, who stunned in the various local and international outfit to show his love for national unity and trans-Atlantic support.
The former military leader is always seen dressing in his native Hausa attire and has never been seen in such outfits which surfaced online recently.
But what could the APC strongman be up to this time around by dressing this way? Though he looks cute on the cloths, maybe to gain national attention!!© 2014Nollywoodgists.com