D'Banj Falling In Love With Agbani Darego?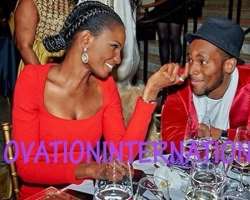 How many of you have written a list of wants before going to the market so as not to forget anything and at the same time know the amount of money to budget? Well this will be very common among the Nigerian women and some men at times.
'Bottom belle' crooner, Omawumi, has revealed that her mum is a rare gem and would like to download Instagram application on her phone so that she could keep taps with children with her creativity.
The singer's mother who came to spend time with her daughter, dropped a debt note on the table for the singer to see when she wakes up just to remind her that she is owing her some money.
According to her, "My Mother is a Rare Gem! I should download instagram for her, she would cracked us up on a daily! See what she left on my table this morning. GBESE List!! That is all the 'mummy borrow me 10k or buy dry fish for me' she dey list all!!! I better pay up."