Her Incessant Troubles Made Me Abandon Our Matrimonial Bed- 55-Year Old Man Tells Court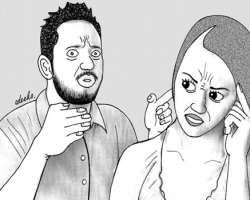 No longer able to condone the incessant troubles his wife puts him through, a 55-year-old resident of 5, Osunnike Street, Alakuko, a Lagos suburb, Kazeem Busari, has prayed the Alakuko Customary Court to dissolve his 13-year-old marriage.
He also alleged that she constantly fought him over trivial issues.
Busari, a plumber, said: "I married , Rasheedat, solely because my first wife died and I felt my daughter needed motherly love. But since we got married, I have not known peace.
"She enjoys attacking me and my children. I have never gone on a successful business trip because
I always receive distress calls from home.
"It is more than a year since I stopped sleeping with her because of her incessant fights. I have informed her relations about her behaviour. Since she can't stand the sight of my children, I don't want her anymore."
However, Rasheedat, 42, told the court: "My husband barred me from working when we got married. His children virtually complain about everything I do in the house."
"Even when I tend to correct my step-daughter, she wouldn't listen. In fact, the last time I sent her on an errand, she slapped me. His children are mean.
"They regard me as a slave, not their father's wife. I also don't want the marriage anymore because of his children."
The marriage, which was sealed under the Native and Customary Law, is blessed with a one-year-old child, Lateef.
After listening to both parties, the presiding member of the court, Chief Awos Awosola, ordered the parties to maintain peace and be law-abiding. He thereby adjourned the case till November 27 for further hearing.