Presidency: Political associates buy presidential nomination form for Tambuwal – Speaker's aide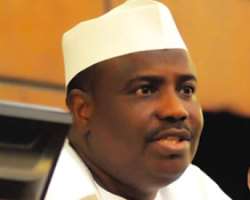 Some members of the All Progressives Congress (APC) in the House of Representatives have launched a powerful drive for the Speaker, Aminu Tambuwal, to emerge as the presidential candidate of the All Progressives Congress.
Investigations on Thursday revealed that the members took it upon themselves to purchase the APC presidential nomination form for Tambuwal, who recently dumped the Peoples Democratic Party for the nation's main opposition party.
Attempts by the APC to pick a presidential candidate by consensus had failed after talks between the stakeholders reportedly collapsed on Wednesday.
The contest was initially between a former Head of State, Maj. Gen. Muhammadu Buhari (retd); a former Vice-President, Atiku Abubakar; Kano State Governor, Rabiu Kwankwaso, and Imo State Governor, Rochas Okorocha.
Tambuwal could not be reached as of press time, but his Special Adviser on Media, Mr. Imam Imam, did not deny his boss's presidential interest.
He claimed that some 'associates' of the speaker notified him on Thursday morning (yesterday) that they had bought the form for him.
Imam stated, 'Earlier today (Thursday), some friends and political associates of the speaker notified him that they had bought the presidential nomination form for him.'
He did not give details of the associates and friends.
When contacted, the leader of the APC caucus, Mr. Femi Gbajabiamila, confirmed   that there was indeed a presidential nomination form in the hands of Tambuwal.
He explained that the form was procured   by lawmakers, who had put Tambuwal under 'tremendous pressure' to run for the Presidency.
He added that apart from the lawmakers,   'there are other associates too who want the speaker to vie for the Presidency.'
However, Gbajabiamila clarified that he could not   confirm whether   the speaker would   run or not.
'I don't know if he has accepted, but I know that members put him under tremendous pressure and they bought the form for him', he stated.
When contacted, the National Publicity Secretary of the APC, Alhaji Lai Mohammed,
said, 'As of this moment, Rt. Hon. Tambuwal, has not obtained a form.'
Tambuwal has had a lengthy romance with the opposition since he became speaker on June 6, 2011 before he finally defected to the APC on October 28.
Initially, he was touted to be the preferred presidential candidate of the APC.
However, the entry of Buhari, Atiku and Kwankwaso into the race, slowed down his interest.
An option 'B' that was canvassed shortly before his defection was that he would vie for the governorship seat in Sokoto State next year. - Punch.