Timaya is My Father……Patoranking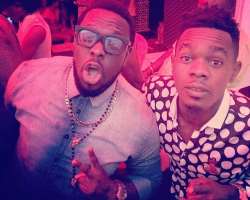 As the name implies, 'entertainment' the Nigerian industry keeps seeing a tremendous development as celebrities tries to settle their differences as the day goes by.
The Nigerian media was agog some months back when it was reported that wave making singer, Patoranking left 'Sanko' crooner, Timaya, after releasing is hit single, 'Alubarika'. Several tongues were left waging until the two were spotted sitting on the same table at an event.
The latest of the duo was when they both performed on the same stage and were performing the hit single released while under Timaya 'Alubarika,' and to the surprise of many, Patoranking had to stop the music while announcing to entertained audience that without the Timaya, he wouldn't have come thus far in the industry.
He urged fans to celebrate the singer because Timaya happens to be his father.