I wear anything that fits –Agatha Amata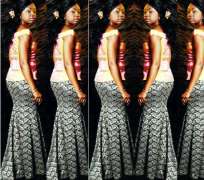 Style is not about the name
Style is what makes you comfortable and allows you to carry yourself well. It is not about the name but about how comfortable you are.
Favorite perfume
Someone just gave me one called Miracle forever and I like the fragrance. But before that I loved Beautiful by Estee Lauder. Right now I'm in love with Miracle forever.
My hair routine
I don't really know about that, but right now I use a salon at Ilupeju called Accord and they are in charge of whatever products I use on my hair. They make decisions for me when it comes to my hairstyle.
Make-up
When it comes to make-up, then you have to ask Temisan. Until recently I used only white powder. But now I use MAC, thanks to my make- up artiste. He gave me a long list when I was traveling, and it was so expensive.
Fashion item I can't do without
Really to an extent none, but for my make-up, that would be powder because I can go without make-up for weeks. But because I have an oily face, I can say white powder.
I wear anything that fits
I don't have a favorite designer, but I wear anything that fits. You don't need something too expensive but it is who you are . That doesn't mean I don't have expensive stuffs but I rarely use my money for them.
My wardrobe
If you ask me the most expensive thing in my wardrobe I don't know because of what I do . I have people who take care of my wardrobe. They are called Rare and Unique and they are fantastic. I have a lot and I give them out because of my programme . I don't repeat clothes.
Story by nollywoodgists.com