MAGDA's LESBIAN LOVER – Nigerian/British Lesbian Short Film Shows At Germany Film Festival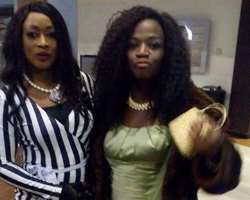 Sword of the Spirit Film & TV Production is proud to announce that MAGDA's LESBIAN LOVER – MLL ( short film) their recent production is being shown at a Film festival in lower Saxony – Germany on Thursday 13th November 2014.
Elizabeth Obisanya , writer/ Producer of the short and Nigerian LGBT activist states, "its good news after the bad news of the Ebah claim being thrown out in the Abuja courts recently & Zafaa's ( Nigerian film awards in London ) refusal to accept it into its awards consideration. Recall that the judge in the Nigerian case had said that Mr Ebah had no right to make the claim of Human rights violation as he ( Mr Ebah was not gay) and so threw it out . In the Zafaa case although we submitted , we were not shortlisted in the awards night that took place due to homophobia by the organisers who were worried about the Nigerian law. This is what we are saying such laws is affecting LGBTIs including our livelihood.
Anyway, its nice to have the LGBTI and works appreciated abroad in Germany and we look forward to its showing at Braunschweig – Jesus after all said – a prophet is not appreciated in his own town/home only abroad….Mark 6:4, Luke 4:24.
I would like to encourage Nigerian LGBTI creative peoples to carry on making creative works and do not let the current situation in Nigeria or Africa deter you… Jesus paid the price for the LGBTI to be who we are and to enter Heaven, He abolished the Law of Moses that contained the ban and established Grace for us – Hebrews 10:9, Colossians 2:14.
You can catch the short which stars actress Sabrina Chiemeka, Selma Glasell and is directed by Will Moore, written and produced by Elizabeth F Obisanya here:
http://www.filmfest-braunschweig.de/en/programme/movie-search/details/?user_fifmoviedb_controller[movie_id]=663
foto: Elizabeth in green with (straight) Senegalese actress Posh Dee Rannigan at the premiere of Invasion 1897 in London recently.

SWORD OF THE SPIRIT FILM & T.V
http://swordofthespiritfilm.wix.com/swordofthespiritfilm
Check out our latest film. MAGDA's LESBIAN LOVER - MLL
a Christian Lesbian short film
http://swordofthespiritfilm.wix.com/magdaslesbianlover