YVONNE NELSON IN HOT ROMANCE WITH JIM IYKE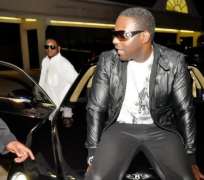 Yvonne Nelson has always refused to name her boyfriend, "It's not John Dumelo, it is not Majid Michel (married) and never Jon Gemain", she has told media people.
Although she tells pressmen she has a boyfriend, you would never see her with one at any public functions. But is one's private life HC's business? I'm sure you just asked. The answer: Never, It has never been. After all, she has always denied all relationship rumours including affairs with Nigerian director Frank Rajah Arase and executive producer, Abdul Salam-Mumuni (Venus Productions).
And she swore that issue was not the reason behind the reported brief fracas between Sallam and his trusted movie director, Frank Raja. Today, Hi Confidential can authoritatively reveal that Yvonne is dating Nollywood screen lover/bad boy, Jim Iyke. The first time the two met uneventfully was in a 2009 movie. The second was about a week ago when they were shooting the Media 5 Production's "Deadly Obsession" in Accra.
Surprisingly, Yvonne was very cold and never spoke to Jim when she came on set on March 23. There was a heavily tense moment that an HC confidante thought it was a scene in Deadly Obsession. When the guys at Hi Newsroom asked why the cold reception, she claimed she was there to do business and not to mingle.
Nigerian actor Jim Iyke
But after the shoot, Yvonne has virtually stuck to Jim Iyke like tattoo. HC spotted the two on three occasions between last Saturday and Tuesday at the Accra Mall. Yvonne has been spotted at Jim's hotel on two occasions- not for business, because that has been done with already. Once in at an ungodly hour in the hotel Iyke is lodging at.
The recent development has led to Yvonne rejecting a movie script and cancelling a planned trip because she wanted to spend more time with new found love, Jim Iyke before he leaves for Nigeria on Monday, March 29, 2010.
Sources say Yvonne has confided in a friend that "the whole thing was getting very serious". The friend in turn told another that "Yvonne was taking the whole thing too seriously" considering Jim was a guy every lady would love to be with. "Anything for sex with Jim Iyke, I would do", Yvonne's lady friend tells Jeff Turkson.
Story by nollywoodgists.com