Acting No Longer For Lazy People--Iya Rainbow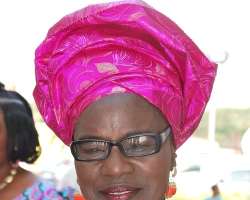 Veteran Nollywood actress, Idowu Philips aka Iya Rainbow, says she is happy with the way parents are now supporting their children's career in acting as it was never regarded in the earlier times and a lucrative job.
The certified trained nurse cum actress, revealed that during her entrance into the industry, her parents never allowed her and as such, did not support her until she started receiving awards before they believed in her.
According to her, "then, our profession was seen as something meant for lazy people. People always looked down on us until God blessed our job."
The veteran actress disclosed that her father, out of desperation for a female child, prayed and fasted for 40 days and it was revealed to him that he would be blessed with star and a servant who would serve him later.
Iya Rainbow noted that she never it through nursing career but through acting which has enabled her travel all over the world.
Mama rainbow had developed strong passion for acting while she was working as a nurse; her late Husband formed the Osumare theater group, from where Iya rainbow started as a stage actress.

She often find time to movie locations to shoot movies while she worked as a nurse, and in 1986 , she retired from Nursing at the age of 45 and joined his late husband theater group fully on the advice of the late Yoruba movie icon- Hubert Ogunde. Since 1986 when she started acting, Yoruba actress Idowu Philips has become the Pillar of Yoruba movies.
Iya rainbow first appeared in a set of movies titles "Eru", and "Aje ni iya mi", but it was the movie – "Asiri Nla" that brought Iya rainbow into limelight. Mama rainbow's record shows that Idowu Philips age is 69, and will mark her 70th birthday on the 16th of October, 2012 and she has featured in well over 500 movies in her movie career.