Declare total war on oil thieves now -Punch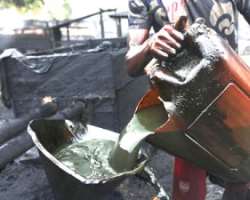 The Nigerian Navy appears to be filled with thrill and hope over its recent claims of successes in combating crude oil theft. Charles Obiora-Medani, a Rear Admiral and the Flag Officer Commanding Eastern Naval Command, who made the good news public, stated that Nigeria was losing 800,000 barrels of crude oil monthly to thieves as against over two million barrels monthly in the early part of this year.
According to him, in January 2014, when the present Chief of Naval Staff, Vice-Admiral Usman Jibrin, took over, Nigeria was losing 2.6 million barrels per month. But by September, the figure had dropped to 800,000 barrels per month, signifying a major drop in oil theft. Obiora-Medani said that, 'our effective patrol has made it impossible for sea robbers to attack oil service vessels and international boats that ply between Nigeria, Sao Tome, Cameroon and Gabon…I am assuring you that very soon, we will eradicate these criminals from our waterways.'
Certainly, the naval authorities expect a round of applause from a grateful nation, especially when Obiora-Medani said the Nigerian Navy was doing a great job in tackling oil theft and sea piracy in the country. But the bad news is that the larceny is much more complex than what appears to be a fleeting success. The challenge is to declare a total war against the maritime bandits, especially the well connected oil thieves.
For many years, Nigeria has been leading the rank of worst oil theft countries globally with Mexico, Iraq, Russia and Indonesia trailing a far distance. For instance, in 2013, oil theft led to a shortfall of $4.8 billion or N769.2 billion in the first quarter, thus creating a shortfall of 20.4 per cent in government spending plans. Since 1999, the outlook has always been awful.
The leakage is now most challenging because Nigeria's public finance is in a more precarious state than ever before. According to reports, global oil prices have dropped to their lowest levels in years, plunging by more than 25 per cent in the past five months. And there are fears that Brent prices (now around $85 per barrel) will go as low as $80 per barrel and Light Sweet Crude Oil as low as $70 per barrel early next year. According to Bloomberg, global supplies are climbing, with the United States pumping at the fastest pace in more than 30 years. For some forward-looking and prudent nations, this is unequivocally good news. For Nigeria and other visionless and profligate countries, the trend looks pretty scary.
Nigeria's oil revenues, according to reports, fell by $604 million in September âˆ' a 16.5 per cent fall from the previous month âˆ' putting the finances of the three tiers of government in serious jeopardy. Acknowledging the stark economic reality, Ngozi Okonjo-Iweala, our Co-coordinating Minister for Economy, told the Financial Times that, 'Nigeria has two to three months of rainy-day savings to cushion it while contingencies are put in place should world oil prices continue to fall.'
We agree with the finance minister that falling oil prices should be an incentive for government to rein in oil theft and dismantle the illegal trade. But, first, who are the oil thieves? A Federal Government investigative task force once said that there were three main ways oil was bunkered: by small cargo canoes that navigate the swampy, shallow waters of the Niger Delta, where culprits puncture pipelines to siphon crude into small tanks; stealing crude directly from the wellhead; and filling tankers at export terminals, which is referred to as 'white collar' bunkering.
A September 2013 Chatham House report, Nigeria's Criminal Crude: International Options to Combat the Export of Stolen Oil, says, 'politicians, military officers, militants, oil industry personnel, oil traders and communities profit, as do organised criminal groups. The trade also supports other transnational organised crime in the Gulf of Guinea.' An oil industry insider, Mutiu Sunmonu, Country Chair, Shell Companies in Nigeria, said in 2013, 'It's clear that a well-financed and highly organised criminal enterprise exists on a phenomenal scale - a parallel industry with a supply chain to export crude oil overseas that includes loading and shipping operations.' This is a big time racket.
Cracking the cartels won't be easy, but it can be done with a strong political will. The Chatham House blistering report declares that Nigeria's dynamic, overcrowded political economy drives competition for looted resources, while 'poor governance has encouraged violent opportunism around oil and opened doors for organised crime.' For Global Financial Initiative, stolen Nigerian crude oil is transported on internationally registered vessels, sold to international buyers, processed by international oil refineries and paid for using international bank accounts. The GFI says âˆ' with one group of thieves admitting to profits of nearly $7,000 a day from their illicit activities âˆ' it will take some doing to stop them.
This is the riddle that only a resolute President can resolve. The steps suggested by Chatham House include sharing of intelligence between Nigeria and its prospective partners; the need for Nigeria to build the confidence of other partners involved in the campaign; the need for other states to clean up parts of the trade they know are being conducted within their borders; and the necessity for Nigeria to articulate its own multi-point, multi-partner strategy for addressing oil theft. Previous attempts to crush the crude oil cartels failed because successive corrupt governments had weak moral authority to rein in the economic saboteurs.
But it has become a struggle for our economic survival for the Jonathan administration to rescue the country from crude oil crooks. He has just a tough few months to make a difference. While our maritime security needs to be enhanced, it is the government's determination to bring every crude oil thief to justice that will finally break the jinx.