Tony Tetuila Warned To Drop His Political Ambition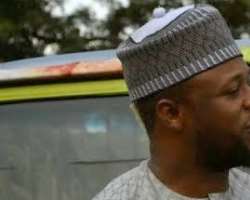 It is no longer news that Tony Tetuila of the defunct pop group Remedies has intentions to run in the forthcoming general elections in 2015.
When he officially declared his political ambition, it was welcomed by few of his fans who hoped that the entertainer would make himself useful to his people of Irepodun Local Government of Kwara State at the Kwara State House of Assembly.
But when the part-blond, part-black haired musician came up with his campaign poster, which some said looked more like a promotional poster for a forthcoming music concert rather than a political poster, doubts began to creep in about seriousness of his intention and his state of mind to step into bigger shoes.
Even some entertainers weren't comfortable with Tony's bohemian looks; Toolz Oniru for instance made a meal of it on her television show.
However, it has been reported that the political power houses of Ilorin have told the musician to keep his aspiration on hold and advised him to wait for his turn. Though it is not clear whether Tony is listening to the words of the elders or insisting on trying out his luck. But there is a disturbing feeling if Tony's appearance hasn't done some damage.