Please Forgive And Give Sarah Kagingo Her Job Back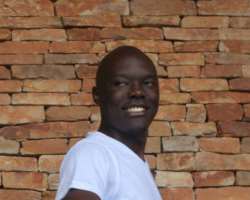 Friends:
Who is updating us now on Statehouse 'lugambo' now that Ms. Sarah Kagingo is locked out? We are missing the updates as they too seem to have been suspended at the same time as Sarah. I reckon Sarah's bosses behaved like a merchant updating his inventory by first burning down his store. The 'store' was Sarah because he introduced them to the social media, and I'm afraid a new face may not cut it for a lot of people.
This time I'm gonna fault my sister, Sarah Kagingo, for trusting people she doesn't know very well. She should never have trusted Mr. Joseph Owino with the passwords to access the president's accounts. By the way, Owino is now a member of UAH on facebook.
That said, I just don't know why everybody is making a big deal out of this hacking business.It was even another pointless point on Tamale Mirundi's part to get involved because its gonna bring him some problems.He keeps this up and and he'll be batting a1000 statehouse battles in no time.
Everybody's account(banking online, Facebook, twitter, e.t.c) can be hacked into, and everybody is capable of impersonating anybody on Facebook. And the chances of the police catching them are almost nil. It is even a wastage of tax payers' money to probe Mr.James Owino. It is scary that some people seem to actually believe the trash that Uganda police could tack anybody on Facebook.They could track someone behind an Email address,but not Facebook. And Facebook rarely helps authorities in trivial matters such as this one. Anybody can improperly and covertly hack into computers used by Statehouse and possibly get away with it.
This incident has two lessons for us:
1-The president and individuals in the executive branch should absolutely keep private communications absolutely private.If the communication is NOT critical to national security, or any of the govt business, we have no business knowing about it. For instance, pics of a 70 plus Museveni celebrating his birthday is none of our damn business.There is no form of government anywhere on earth where everyone is allowed to know everything that the government does. Which is perfectly understandable, up to a point.
2- "Free" space in the digital "cloud"or anywhere on internet is not to be trusted. To put it another way, if you don't pay for it, you don't control it, and even if you do pay for it, chances are that you have limited control.
Now, statehouse should let Sarah get back to job because we adore her. Mr.Tamale Mirundi should also cool it. I know he has got a big one(mouth) on him. And everybody is happy happy! Oh, And it doesn't cost $1600 or $ 160,000 to run twitter/facebook Accounts.
--
Abbey Kibirige Semuwemba
Stalk my blog at: http://semuwemba.com/
Follow me on Twitter: http://twitter.com/#!/semuwemba
Join me on Facebook: https://www.facebook.com/abbey.k.semuwemba
'"Never be afraid to raise your voice for honesty and truth and compassion against injustice and lying and greed. If people all over the world would do this, it would change the earth." ― William Faulkner
Disclaimer:

"The views expressed on this site are those of the contributors or columnists, and do not necessarily reflect TheNigerianVoice's position. TheNigerianVoice will not be responsible or liable for any inaccurate or incorrect statements in the contributions or columns here."