Elizabeth F Obisanya Challenges defendant in copyright claim to present court costs…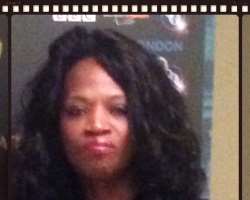 Elizabeth F Obisanya ( HRH ) , LGBT film maker ( whose works include Cashback paper or plastic© , Magda's lesbian lover© now showing in Germany - who was involved in the CASHBACK v CASHBACK court cases has recently requested the defendant Lene Bausager to present the court costs which she was awarded in 2012.
Recall that in 2012 , HRH had won the case in the CASHBACK v OH HAPPY DAY CLAIM at the High Court in London but was overturned by a bogus judgment by the judge. The defendant Ms Lena Bausager had failed to comply with the court procedures by responding to the claim within the period allowed under the CPR . As any lawyer knows if your defendant does not reply to the alleges put against them it means that you have won . In this case the defendant did not reply to my allegations against her nor write to court to give any reasons for not doing, ( illness, out out of town etc) . When we got to court a whole 2 months later the judge ordered her to reply – this contrary to the civil procedure rules and against the rule of law . One could only watch in disbelief it all unveil in the courts . To cut a long story short, the whole matter resulted in a hearing in which I the claimant Elizabeth Obisanya was not present at . Again the CPR states that 3 clear working days is needed to notify all parties in writing that there is a hearing coming up. I didn't get my hearing notification until the Saturday AFTER the Wednesday hearing. Needless I was not there , and so he ruled against me and I was ordered to pay court costs.
Nearly 2 years down the road the defendant has yet to present this court cost which I am supposed to pay her in the bogus hearing which was unjust from start from finish. So yesterday I emailed the defendant to present the bogus bill so I can see how much it is and sort it out. I have yet to hear back from her…….. It is clear that in Britain blacks still don't have any say in the courts nor are we protected by the Law .. section 19 c of the Race Relations Amendment act has not been put to bed unfortunately.. But God reigns and does justice ..
You can access info on section 19 C of the Race Relations amendment act 2000 here :
Back ground info on the parts 1 & 2 of the case here :
http://www.newsshopper.co.uk/news/2215003.i_want_16m_cashback/
http://www.gistmania.com/talk/topic,76052.0.html
http://www.legislation.gov.uk/ukpga/2000/34/pdfs/ukpga_20000034_en.pdf
http://www.legislation.gov.uk/ukpga/2000/34/section/1/enacted
Photo: HRH at Screen nations earlier this year.