You Will Die A Wretched Sad Old Man—Chika Ike's Manager Blasts Charles Novia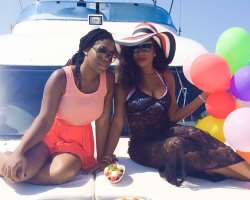 Nollywood producer, director, screenwriter, actor, social commentator and essayist, Charles Novia is known for his series of lambasting articles directed to various aspects of Nollywood and the entertainment industry in general. His criticisms are usually seen as "bad belle" and he has often been challenged on his mastery of his profession.
Recently, he is in the tongue lashing books of actress, Chika Ike, as the actress manager, Serah Donald, has challenged the Nollywood producer of his manner of relaying his information but this was after the movie boss had criticized the holiday embarked upon by the actress and her manager.
Here is the genesis of the issue from Charles Novia;
'These so-called celebs just set me off! Look, my friend, as with many of those in the society from which our Nigerian celebrities come from, these guys suffer from a deep-rooted poverty mentality which even their doubtful educational exploits cannot mask'
'Why do you say so?'
'Let me give an example with that Chika Ike. She is an actress or something? Yeah? How is it that she sorts of ensures that the whole Nigeria must know that she paid $24,000 for a two-day yacht ride in the Middle East? Isn't that some sort of dysfunction of her faculties?'
'But I read that it was her Personal Assistant who wrote effusively on her personal page that Chika paid that amount and took her, the PA or friend, along for the ride'
'It all boils down to my point. And by the way, that picture I saw of the yacht is suspect. The damned thing looked like a cruise boat which the obtuse PA might have mistaken for a yacht though. Anyway, my point is, in this clime we live in, our so-called celebrities, coming from a background of social, material and emotional deprivation just have to FORCE the public to know that they have arrived. So, a boat trip, a helicopter ride, a breakfast in a 3 star hotel lobby and a personal scratch on the ass must make the news at all costs.'
Furthermore, Serah who mocked the poor understanding of Novia, advised him to restructure his career which is dead and not allowing him to pay his bills.