I Don't Mind Going to the Court at Old Age……… Yvonne Jegede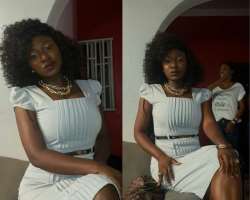 Nollywood actress, Yvonne Jegede, has revealed that he long absence in the make-belief industry, was to make her get another career in which she could fall back on when is old.
Explaining why she studied abroad, the actress disclosed that she needed to concentrate as studying in Nigeria would have not allowed her concentrate.
She stated that she studied law at the Lagos State University for three years and had to leave because she was still acting, adding that she had to opt for something really far away that will make her sit down and focus on getting a proper education.
According to her, "Now, I can beat my chest and say that I am a graduate. I have my certificate and I graduated with a very good score. I think I have achieved half of all I want to achieve, my production outfit will soon kick off and my career is doing well too."
After graduating with good grades, Yvonne noted that she does not mind going to the court room at an old age.
Falling back to her first love which is acting, the actress revealed that it wasn't easy blending back after long absence. She sated that a lot of people said to her that her face cannot sell movie, while some asked she could still act. "It was one or two people that have been using me. Information travels far when you are on set, that is how a producer kept on giving others my contact. If anybody should call and ask about the movie they were shooting and the cast, they will give me referral, that was how the word went around and people kept on calling."