Dayo Adeneye Gets Raymond Dokpesi's Blessing To Join Politics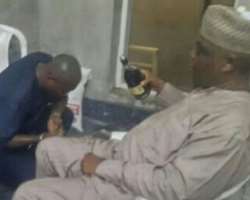 Revelations are meant to set a person's mind free from bondage, likewise God in heaven loves a person who confesses his/her sins without going back to it.
The authorized distributor of Apple and Nintendo products in Nigeria, Ghana and Angola, Core Group Africa, has released an official notice warning Nigeria-based customers not to buy the just-released i-Phone6 or i-Phone6 Plus.
According to the advertorial, "Buyer beware. If you have bought or are planning to buy an iPhone 6 or iPhone6 Plus, before the official launch, you need to be advised that: – It does not carry the official warranty. 2. It may be smuggled. 3. It may be stolen. 4. It may not work properly. Buy only authentic product – Guaranted lowest launch price. Official 1-year Apple warranty. Local support should anything go wrong. Official iPhones ship with all features activated. Compatible with all Nigerian cellular networks. Your phone will be valid for a trade-in next year".
Interestingly, our Nigerian celebs especially, are the ones that keep going after new gadgets without even giving it sometime to get into circulation and to understand the user's value.
Just as the notice is being circulated, Kcee's manager, Sososoberekon is one of the victims of the yet to be launched iPhone 6 malfunction. Sososoberekon, took to his social media page to announce the sudden damage of his phone.
This announcement amusingly is coming at the time when the chief executive of Apple, Tim Cook, revealed that he is not straight.
At the time, the 53-year-old tech executive had never publicly addressed the subject matter, but now, he's speaking up! On Thursday in his first person piece written for 'Business Week,' Cook proclaims, "I'm proud to be gay, and I consider being gay among the greatest gifts God has given me."
Recall that some days back, Nollywood actress, Tonto Dikeh's iPhone 6 also had issues when she posted on her social media page that her phone was damaged also with screen issues same as Kcee's manager, noting that it was just a waste of money and she will be going back to Nokia 3310 because she could have used the money to help someone in need rather than buying the iPhone 6.