Ini Edo Moves On After Collapsed Marriage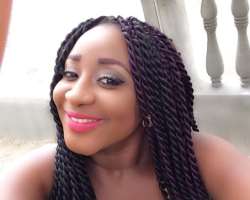 Nigerian celebrities and their failed relationships or marriages is no longer news but a regular phenomenon which is gradually eating deep into the Nigerian entertainment society.
While some relationships have failed, some are trying to patch up and pretend nothing happened while some are still enduring and do not want the public to know. Whatever the case is, lessons needs to be learnt from the successful ones.
Recently, Nollywood actress, Ini Edo, was faced with marital crisis which led to breakup of her six year old marriage. Though questions have been asked on who is guilty, yet the true story is best known to former couple. The actress, has since continued with her life and not bothered with whatever anybody says.
Ini Edo, in a recent post on her social media page, said that she now knows she is matured when she realized every situation doesn't need a reaction. This could actually be the much pressure she has been getting from fans on her social media page.
One of her fans Ufuomaamin, warned others that being in marriage without an issue is a big problem, most especially with the African men. Adding that what the actress went through, nobody can take that for a year.