Why My Dad is a Bad Guy………Moet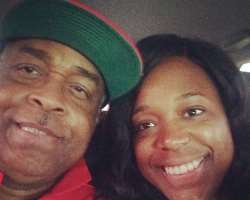 Popular TV entertainment host, Moet Abebe may be on the screen and seen at various red carpet events but hardly does she talk about her family. But recently, she decided to take her first social media picture with her dad to express her affection for him.
Moet who recently explained that she is proud of her all her lady bits because they make her the real woman she wants to be, has described her father as a bad dude.
She wrote; "My daddy!!! *sigh where do I begin? In fact let me not begin! If you know me well I DONT speak about my family especially my father reason being I idolize him! Well today my daddy and I decided to take our 1st selfie!!! #my daddy is a bad guy #we look alike #legend."
The VJ cum actress whose real name is Laura Monyeazo Abebe, is graduate of Law at Manchester University, UK, did explain that she has no regrets whatsoever not practicing as a lawyer because; she didn't feel fulfilled as a lawyer.