FIRS probes 6 firms over N2.4bn tax fraud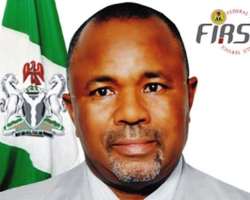 The Federal Inland Revenue Service, FIRS, has quizzed top officials of six firms, including oil companies operating in the country, for failing to remit tax revenue amounting N2.4 billion.
According FIRS spokesman, Mr. Wahab Gbadamosi, the affected companies did not only fail to remit their outstanding tax liabilities, but also refused to file their tax returns as required by law.
He said: 'The companies and their outstanding tax liability are Leaders and Company Ltd, N228.5 million; Lottoj Oil and Gas Ltd, N14.4 million; First Deep Water Ltd, N63.1 million; Tonique Oil Services Ltd, N27.79 million; Tak Continental Ltd, N960.2 million and Alliance and General Insurance, N1.13 billion.
'Earlier, the service on October 3, in Lagos embarked on a similar tax recovery exercise against Baker Hughes, Line Trale, Tecon Oil and Heyden Petroleum, all operating in the oil and gas industry.'
With the dwindling oil revenue, FIRS, it was learned, had received a marching order from the Presidency to step up its tax collection activities and that it had all necessary legal backing to deal with defaulters.
The Executive Chairman of FIRS, Alhaji Kabir Mashi, at the Federal Inland Revenue Service Regional Enlarged Management Meeting held in Ibadan on September 25, had said the service would be compelled to invoke relevant laws against recalcitrant taxpayers.
In furtherance of this, Alhaji Mashi was said to have directed full scale enforcement against corporate bodies and individuals yet to file 'tax returns' and voluntarily fullfil their tax obligations.
The tax law required compa-nies, with December 31 as their end of Year Accounting Date, to file their tax returns on or before the end of June of every year, while payments of taxes were expected to be made not later than end of August.
Those found liable risk three years jail term, in addition to paying the tax arrears with interest, as provided in Part V1, Section 40 of the FIRS Establishment Act, 2007. Vanguard