Runky Sanda's Love For Strangers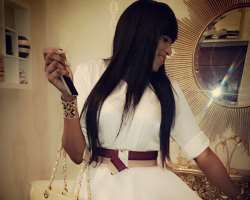 Veteran ghetto singer, Daddy Showkey, has disclosed that he is his highly disappointed with some Nigerian artistes who feel pompous and does not want to associate with others.
He said that he is surprise at times when he sees people that were nothing before and when they become something, they start feeling big and pompous. Adding that as a musician, there should be humility because it is the people that made them to be what they are.
Revealing reasons for his long absence in the music industry, he explained that he has been relevant but believe that people should hear positive things about him rather than Negative things. He explained that what actually kept him away was a spinal cord injury which he sustained in 2007.
According to him, he spent three years in a hospital in Germany just to get his health back on track. "I was away in the hospital for 3 years! Three years because, first of all, I was in the hospital in Colindale; from there I was transferred to another hospital in Germany. That was where they started giving me some physiotherapy to balance my spine, because my spine was swollen so I cannot move it. But today I thank God I can walk. It's not easy to have a spinal cord injury and still walk."