Ann Njemanze New Glowing Look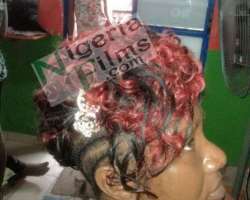 Ann Njemanze, the Nollywood star who also plays the role of Inspector Sankey, a very annoying but insistent sleuth on M-Net's popular soap, Tinsel now has a totally different new look.
Ann, who was one of the earliest stars minted by Nollywood, is well known for her short hair do, which makes her look Tomboyish. But she recently changed it to have another touch of style.
Ann, who is Segun Arinze's ex-wife, remarried to her heartthrob Silver Ojieson on Saturday, November 9, 2013.
Her earlier career in the movie industry had suffered a decline following a devastating car crash that left her bedridden and out of work for years. Today, Tinsel has brought her back to limelight with a recurring role on the hit TV series.
Her 16-year old daughter, Renny Njemanze and 10-year old son, are also making her proud, as they keep growing to take after their mother's love for the entertainment industry.