Oritsefemi, Davido Release Sexy Lady Video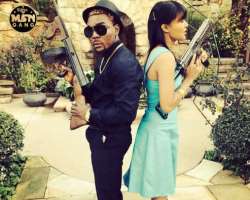 Double Wahala fame, Ortisefemi Majemite has dropped a new video, Sexy Lady featuring rave of the moment, Davido Adeleke. The video which was shot in Elegushi Beach, Lekki, Lagos few days back had lots of dancing steps from Omo Baba Olowo crooner, Davido. Oritsefemi who is currently on United States of America Musical Tour proved his worth in the video with his Ajegunle dancing steps.
According to Oritsefemi's manager, Yusuf 'Danku' Adepitan , our fans have been anticipating to watch the video since it was shot by Patrick Elis, one of the foremost musical video director.
"The reason we delay the video is to give out our best. Patrick Elis worked assiduously on the video. I am very optimistic that music buffs and Oritsefemi's fans would love the video. The preview with major musical channels had positive comments. The video is already enjoying air play in Soundcity and Hip T V currently", Adepitan said.

However, few days back Oritsefemi Ekele signed multi-million naira management deal with Avarta, an entertainment empire based at the federal capital territory, Abuja. Avarta will be in charge of Oritsefemi's management.
"I'm very delighted to work with Avarta. Our dexterity will bring out the best as far entertainment industry is concerned in Nigeria. My fans will hence forth see the new Oritsefemi. I will also drop my new song with Ghanian Raggea Star, Chatta Wale any moment from now. We are working hard to satisfy our fans", the self-acclaimed Musical Taliban said.
Oritsefemi is planning to release his fifth album any moment from now.
SHETADE IMAGES CONTACT:
4/6, Tomoloju Estate, Ogba, Ikeja, Lagos.
08067612682, 08028864962
[email protected], [email protected]
@tj_shetade

Oritsefemi's Profile
Oritsefemi Majemite Ekelewas born in Delta State, Nigeria, and grew up in Lagos, which is known as "the state of musicians".
He had his primary education at State Primary School, Apapa, Lagos. While his secondary School was Randle Secondary School, Apapa ,Lagos also. He was preparing for his tertiary education before music came into his life.
His family was of a polygamous kind, and Femi had a lot of siblings. With his mother working in a church, it would be only natural to expect him to have been a choir boy, but his path was different. Oritse began singing while he was still in his primary school. There were many music clubs there, where he used to hang out. He became a choir singer later, and he played bass guitar, too. That's where he got his professional education. Femi used to socialize with "undesirable" folks in the streets in his childhood years, and they gave him some insight into the "other" life.
There he learned things he would then use as a source of inspiration for his music. He even preferred reggae in those days. Through a series of transformations Femi's music style became what it is today: a curious blend of different approaches. It has elements of reggae and hip hop. Femi intends to touch souls of people of all society circles. Femi was once member of a two-boys band named The Junglist. He formed it together with his fellow musician, Chibudo.
Two albums were released as a result of that, and after that Femi went solo. His first solo album was called 'Elewon'(it means "chase them" in English), and it concentrated on crooked politicians. His second was titled 'Wicked World'. It contained a smash hit, mercies of the lord. Then He drop his 3rdalbum titled 'Unfadeable', featured Pasuma Wonder and 2Face Idibia,dagin and also Nico Gravity and the last album was titled , 'Musical Taliban'.
Currently he is gearing up to release his fifth album. Four of the tracks in the album, Double Wahala, Body and Soul, Redi Dance, Sexy Ladies and Double Wahala Remix are toast of every event in Nigeria at the moment. He duets Double Wahala Remix with D'Banj and Davido Sexy Lady. Oritsefemi has performed along side international artistes like Trey Songz, Kenye West, Akon and others.
Awards:
NIGER DELTA CELEBRITY AWARDS (GRASS ROOT ARTISTE OF THE YEAR)-2008, 2009.
GBEDU AWARDS , BEST DANCE HALL ARTISTE OF THE YEAR-2012,2013.
SOUTH SOUTH MUSIC AWARDS, BEST RAGEA DANCE HALL-2012
CITY PEOPLE BEST RAGGEA ARTISTE OF THE YEAR-2013
GLOBAL NEWS POPULAR SONG OF THE YEAR-2014
ISLANDERS MAGAZINE ARTISTE OF THE YEAR-2014
NIGERIAN ENTERTAINMENT AWARDS- INDIGENOUS AND HOTTEST SONG OF THE YEAR- 2014
CITY PRIDE ACHIEVERS AWARDS, ARTISTE OF THE YEAR-2014
HEADIES AWARDS NOMINATION- 2014