Even As A Married Man, Women Still Run After Me- Tuface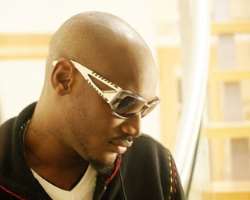 Despite his overwhelming success as an artiste and acquired wealth, 2face Idibia's humilty is second to none.
As a good looking man, married to a star actress, Annie Macaulay, with 6 kids to his credits, female fans still won't let Tuface be.
"It's now a case of 'Hello, thank you very much', I try to make them know that what they are looking for isn't possible. I just say 'Let me introduce you to one of my single friends", he explains how he handles female fans.
Tubaba as he is often referred to had lived a rough life style and has two baby mamas, Sunmbo Ajaba, who has 2 kids for him and Pero Adeniyi, who also has 3 children for the song star before he finally walked down the aisle with his long time ex and baby mama too, Annie.
When Annie was asked why she accepted his marriage proposal in 2012 despite his involvement with other women, Annie had said "I said yes to his proposal because I love him. Won't you say yes to someone you love, regardless of all.
I didn't see the proposal coming though because that period, we were not really together, we were just being good parents to my daughter…but when he proposed, I said yes because I want to be with him regardless and moreover he is not a bad person."
However, when the Benue state born star was asked why he doesn't show off his wealth like the other celebs on social media, he said,
"For me it's a matter of choice. It's a matter of what makes you happy. Some people have it and they don't care to show it and some just do it so that people will think they have it. Some people do it so that armed robbers will come and visit them."
On the secret of his staying power, he said 'that question is difficult to answer, I think it's people that will answer that aspect for me. But for me, I think it's the talent , the grace of God and then the love of my fans."
Click the link below to go to...
Nollywood Actress, Biola Ige: Sweeping Nollywood With Sexiness, Beauty?
I HAVE A BEAUTIFUL BODY,WHY WON'T I FLAUNT IT--ACTRESS UCHE OGBODO
FORMER SUPER EAGLES CAPTAIN,AUSTIN JAYJAY OKOCHA OPENS UP ON MARRIAGE BREAK-UP TALE
EXCLUSIVE: Crack Between Ini Edo, Emem Isong Over Movie Credit
WHY MANY CELEBRITY WOMEN MARRIAGES CRASH