Waje Values Obasanjo's Hug More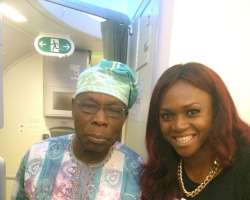 Oh what a life? Imagine former president of Nigeria both during the military and the civilian era who is always being guarded by securities all the time and for you to see him, you need to go through series of protocols now becoming a civilian.
Recently, former President Olusegun Obasanjo was was on a trip outside the country and bumbed into wave making female singer, Waje at the airport about to board the same flight with her.
Elated Waje had to stop her movement to take a pose with the former president who was also happy standing with such a female singer.
It would be recalled that the former President Olusegun Obasanjo in 2013, was 'digging it' and playing Ayo in gospel artiste, Ibitayo Jeje's music video 'Why you love me so,' and this goes to show the fact that he is supporting the young ones and African culture.