Adamawa saga: Fintiri petitions NJC over verdict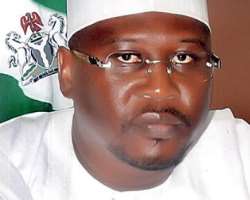 Former acting governor of Adamawa State, Umaru Fintiri, has asked the National Judicial Council (NJC) to investigate Justice Adeniyi Ademola for not releasing a copy of the judgment which sacked him from office to his lawyers.
In the petition dated October 10 and a follow-up dated October 14, signed by Chief Duro Adeyele of the chambers of the former Attorney General and Minister of Justice, Chief Bayo Ojo (SAN), lead counsel to Fintiri, claimed that 'to begin with, though Tuesday, October 7, was a public holiday, I got a phone call at about 6.19 p.m from someone who claimed to be the secretary to the presiding judge of Federal High Court No 6, Abuja, intimating me that judgment in the above quoted suit would be delivered the next day, Wednesday, October 8.
'I was not in Abuja and I, therefore, instructed one of my junior colleagues in chambers to go for the judgment. I also emphasised that he should obtain a certified true copy of the judgment as my expectation was that His Lordship would make a copy of the judgment available to parties, knowing the constitutional and political nature of the case.
'However, no copy of the judgment was made available. On getting back to Abuja on the same Wednesday, I instructed one of my junior colleagues in chambers to apply for a certified true copy of the said judgment, to concretise the notice of appeal which I had instruction of my client to file.
'However, up till close of business of that day, the judgment was not made available. Nevertheless, I still went ahead to file a notice of appeal, based on what my junior heard in court.
'Up till the close of business the next day Thursday and Friday, Justice Ademola refused to release the said judgment and there is no indication from the court when it will be ready and made available to me. One would expect that in a matter such as this, his Lordship should have gotten the judgment ready before delivering same.'
He told the NJC that the judgment was being deliberately withheld to frustrate timeous prosecution of his appeal. - Nigerian Tribune.