COUNT DOWN ON THE VOICE AWARD IN THE NETHERLANDS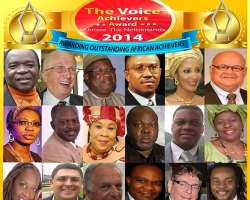 The Voice Magazine, a Pan African publication of over 15 years in The Netherlands
is set to honour distinguished Africans and friends of Africa on their 15th edition and 15th year
anniversary events in The Netherlands.
The annual event known to be the most popular and prestigious African event in the Benelux region of the Central Europe will hold on 17th October 2014 at the Van der Valk Hotel, Veluwezoom 45, 1327AK, Almere, The Netherlands.
This year's recipients from Nigeria includes: the former governor of Anambra State, Chief Peter Obi, Amb. Bianca Ojukwu, Chief Joop Berkhout, Bishop Matthew Kukah, Dr. Abdullahi Diko Indi – CG Customs and Bishop Michael Amamieye.
Mrs Veronica Van der Kamp, Akua Maso are this year's Ghanaian recipients while Stephen Ogongo and Alphonse Muambi are recipients from Kenya and DRC respectively.
Ms Fatou Bensouda, the Chief Prosecutor of The International Criminal Court, The Hague, will speak on: "Addressing impunity for mass crime in Africa and beyond" at the event. The President General of Movement for survival of Ogoni People (MOSOP), Dr. Goodluck Diigbo will be a special guest at this years' ceremony.