Free Lunch For Girls Is killing..........Jim Iyke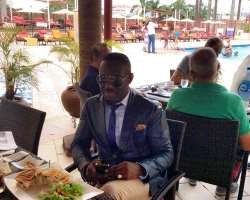 Nollywood's bad boy, Jim Iyke, is always on point whenever he is dressing up and he sure knows how to combine colours to get the best dress combination of choice.
The actor was well dressed to church on Sunday October 12, but decided to create a Nollywood scene at a joint where he went to have lunch. Jim went to a secret joint and kept avoid picking calls from friends in order not to buy lunch for them at the church service.
After realizing what he has done, he begged God for forgiveness stating that there is no free lunch for girls because they were going to kill him.
Well, you will not blame the dude, he needs to concentrate and plan for the future, so he does not want distraction of any sort.