Miss Zambia UK Wins World Title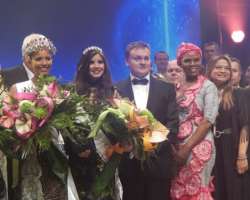 Ostrava, Czech Republic: Miss Zambia UK, Andella Chileshe Matthews has won the Miss Princess of the World 2014 title in the Czech Republic.
Andella was crowned Princess of the World at the 6,000 capacity Čez Arèna in Ostrava, Czech Republic, which was packed to capacity on Friday 10th October 2014. The first runner-up is Monika Vaculíková from the Czech Republic; while the second runner up is Daiana Ayelén Arlettaz from Argentina.

Andella becomes the first ever Zambian beauty queen to win a world title. She also becomes the first ever African to win this prestigious and coveted world title, which has been running for almost 15 years.

"I am honoured and humbled to be crowned Princess of the World. I am also very proud to bring this coveted world title to Mother Zambia and to Africa, in this special year of 2014, in the special month of October when we mark our country's 50-Year Golden Jubilee Independence Anniversary," says Andella.

The stunning 26 year old beauty from Ndola, who lives in London, emerged the winner from a group of top seven candidates out of a total of 40 participating countries. The top seven included Zambia, Czech Republic, Argentina, Nicaragua, Kazakhstan, Ukraine and Denmark. Andella, who holds a black belt in Karate was also voted in the top three for Talent, alongside Turkey and Kazakhstan.

Justina Mutale, Founder of Miss Zambia UK Beauty Pageant, accompanied Andella to the Czech Republic. Ms Mutale was part of the Panel of 30 Judges, who included over 20 National Pageant Directors from other participating countries from all over the world.

"I am very proud of Andella and delighted for my country, Zambia to have this great honour of holding the Princess of the World title. Zambia has great talents that the world needs to know about. And Andella is a good example that Zambian talents can compete and win on a world stage, said Ms. Mutale

As reigning Princess of the World, Andella will travel by private jet throughout Europe and other parts of the world for her official duties. Andella has in addition, been given lessons in flying a helicopter and she has already had a go at flying one. Andella has also done photoshoots promoting BMW, Mercedes Benz, and Porsche in the Czech Republic. She will also work on selected humanitarian causes.

Andella will reign as Princess of the World for two years and will hand over the Crown in 2016 when the World Finals of the Miss Princess of the World Pageant will be held in Bangkok in Thailand.

Andella's winning wardrobe was sponsored by four top designers, Jennifer Klein of my A-Dress Book Collection of England; Giorgia Kajtazi of the Czech Republic; and Gerda Truubon of London who is originally from Poland. Andella's traditional and cultural wear, which depicted Zambia's noble Eagle as a symbol of Zambia's strength, freedom, and soaring development, was designed by Maria Joseph of Madigra Designs, UK.

Andella holds a Masters Degree in Sports Science. She is a Goodwill Ambassador for Contesa Charity and has helped Contesa to raise over £250,000 (over a quarter of million Pounds Sterling). The funds go towards the provision of primary education, life and trade skills, shelter and basic meals for HIV/AIDS orphans and under privileged children who are supported by Contesa in Zambia.

Andella is also part of the world famous signature RED RIBBON Models, a global team of spokespersons for POSITIVE RUNWAY: Global Catwalk to Stop the Spread, a worldwide HIV/AIDS response Campaign that works with celebrities, models and beauty queens to raise awareness and sensitize the youth to stop the spread of HIV/AIDS.

The Grand Finale of the World Finals of the Miss Princess of the World 2014 Beauty Pageant was live streamed to a global audience. The Show was also filmed for live Television broadcast in the Czech Republic and will be available for recorded worldwide broadcast to the rest of the world within the next few weeks.

Namibia and Zambia were the only African Countries represented at this year's Pageant, which had a total of 40 participating countries.

For more information:
https://www.facebook.com/missworldprincess
http://www.missprincessworld.com/