Role Model, Mimi Orjiekwe Joins The List Of Top Smoking Actresses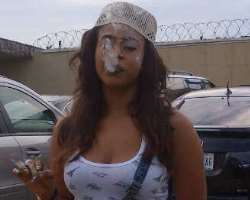 Mimi Orjiekwe is not the name one has to struggle to remember. The Enugu born nollywood actress started acting in 2009. Her first ever movie role was, Royal Madness, which starred stars like Mercy Johnson, Majid Michael and Jim Iyke. She took a break to get her degrees and later returned to acting in 2012 and has done 50 movies and still counting.
Recently the beautiful actress shared a picture of her self confidently puffing cigarette.
Whether the sultry actress has joined the bandwagon of other top nollywood actresses who smokes and never ashamed of displaying it, one can't say.
Mimi was quoted to have always said she's a model to lots of people, especially her fans.
"Yes, as an actor, you have to be a role model to lots of people whether you like it not. People mirror your life, while some other people want to be like you. I'm also part of that. I make sure, I live a life that would be of a good influence to the people outside there," she had said.
Is Mimi keeping to the promise by avoiding any form of wrong impression to her fans? Time shall tell.
Mimi has been engaged to her actor boo, Charles Billion, for over a year now and no story has been heard about their wedding plans. But obviously, she not so worried as she quickly tells who ever cares to ask, "its my private life. I'll let you guys know when I start planning my wedding"