Breaking News!!! Akpabio Is Nervously Desperate, Ordered Arrest of Accountant General, Mr. Isoubara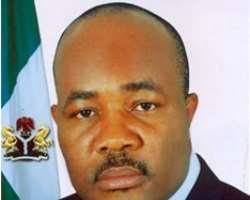 It appears as if all the pressures mounted against Godswill Akpabio by the elders of Akwa Ibom State are beginning to take a toll on him.
Accountant General Locked out of Office and possibly arrested
Reliable sources have confirmed that earlier today (October 10, 2014) Godswill Akpabio ordered the Akwa Ibom State Board of Internal Revenue Service locked up, including the office of the Accountant General of the State. Unconfirmed sources say Akpabio might have also ordered the arrest and detention of the Accountant General---Mr. Isoubara, who is from Essien Udim Local Government Area.
Sources say the reasons given by Akpabio for these latest actions are based on the accusations that Akpabio has levelled against the Accountant General as the individual who has allowed Bassey Albert Akpan and Umana Okon Umana to become so rich, enough to challenge his decision to impose a successor.
Akpabio wants to know why the Accountant General did not inform him ahead of time about the financial capacities of Bassey Albert and Umana Okon Umana. Insiders have confirmed that his real target is Bassey Albert Akpan. One source has confided that barring any unforeseen interference, it is very likely that Bassey Albert Akpan will be arrested soon.
However, other analysts have stated that the real reason why Akpabio has ordered the closing of the Board of Internal Revenue is because Akpabio wants to use the opportunity to find out what information the Accountant General has in his office regarding his (Akpabio's) financial improprieties.
Sources say Akpabio decided to take this measure after being tipped-off over a threat speculated to be made by Mr. Albert Akpan, in which he (Bassey) said whether he contests for the Hilltop Mansion or not, he has information that will send Akpabio to prison.
Umana Okon Umana
Sources close to the behind the scene maneuverings have confirmed that Godswill Akpabio is now a very frightened man. Earlier today, Akpabio sent mix messages to Umana Okon Umana. Akpabio contacted Umana and told him that whenever Umana decides to enter the governorship race, he (Akpabio) is ready to give him (Umana) N800 million. Umana, according to the source, has told Akpabio to go to hell with his money.
Akpabio is exhibiting erratic behavior
It has also been confirmed that Akpabio is increasingly becoming erratic, especially after the meeting between Akwa Ibom Elders and the PDP Integration Committee. Yesterday, Akpabio asked for a meeting with President Jonathan, with the intention to plead with the President to intervene with the outcome of the meeting between the elders and the committee, which Akpabio is afraid, may lead to the removal of Chief Paul Ekpo as the State Chairman of PDP.
Reliable sources have confirmed that the Office of the Presidency has refused to honor the request by Akpabio to meet with Mr. President. In a telephone conversation, Akpabio was informed that Mr. President has advised Akpabio to have patience until the Integration Committee submits its report.
War on his former subordinates
Observers say it is the refusal of the President to give an audience to Akpabio that has instigated him to declare war on three of his former major subordinates; his former Secretary to the Government, his former Finance Commissioner, and his (now former) Accountant General. Analysts have concluded that it will be difficult for Akpabio to win the war because the three former subordinates are the ones who know very well the financial improprieties committed by Godswill Akpabio, since becoming a governor in 2007; they can, and is very likely that these three individuals are ready to bring Akpabio down on his knees.
Stay tuned for developing story on these matters.
Written by
Ikpafak Thompson Essien
The Voice of the Poor Masses
Defender of the Oppressed
Social Critic
A native of Ibibio nation of Ubium Republic extraction, now living in the safe and beautiful city of Portland, Oregon, where no AKPF, ADUMA, ADV, and Akwa Ibom State politicians can reach.