Eyebrow Raises As Actress, Rukky Sanda Stuns in Pink Gown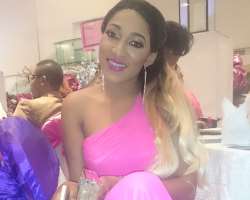 Rukkie who is definitely not a rookie in the movie industry, a couple of years back chose Nollywood over the N25 billion-rich banks, after graduating at the Lagos State University and has since never looked back.
Despite the glaring toughness of wading through the competitive waters of the Nigerian movie industry, Rukky Sanda has clearly earned her spot among the army of Nigerian celebrities who have performed remarkably well in their chosen fields of expertise, and in this case, acting takes centre stage
It is no news that Nollywood actress, loves tattoos and body piercings but what one would acknowledge her for is beauty.
The actress was recently at an event held in Lagos and she was so lovely in her pink gown outfit which blended with her skin colour and made her look stunning.
Rukky who is known for showing off her body parts is obviously not bothered by what critics think of her dressing as she keeps posting more photos for her fans to see.
She has featured in movies like, Strength of love, Legal war, Campus love, My Precious Son, Weeping Tiger and many more.