Toke Makinwa Tasted Love at Age 15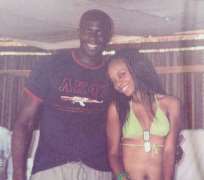 Television and radio personality, Toke Makinwa, burst into the scene in 2010 after the premiere of her last night radio show, "Rhythms of the Night," hosted by one of the most popular music stations in the Lagos Metropolitan area, Rhythm 93.7FM. The show caters to night owls who enjoys smooth melodies that evoke a sense of peace, serenity and calm; qualities that this 27 year old extrudes so effortlessly.
A graduate from the University of Lagos, Toke had always known that her charm and alluring countenance belonged in the spotlight. In 2011, she started to build her portfolio working as a co-host on 'The Morning Drive,' where she keeps her loyal listeners entertained with news across the continent and the globe. Ms. Makinwa has been featured in major editorials including Exquisite Magazine, ThisDay Style, City People, Fashion TV and Complete Fashion Magazine,garnering attention for her petite figure but rivetting personality.
Toke on her throw back Thursday, shared the picture of herself and her husband who was her friend long time ago and said that if anyone had told her that she would get married to Maje, she would laugh that fellow.
She explained that the picture was taken 12 years ago when she was still young but found herself being in love. Base on this her love story, it means that the radio host who is 27 years of age, fell in love at the age of 15. Hmm, you can calculate it yourself.
#Tbt #Epic #soulmates #kids #boymergirl #girl was young and in love #12years later #where it all began #love story #babylondays #now we married. This picture should be burnt, major Surelere. @majeayida will kill me. If someone had told me that we would be married, I would have laughed. #badboy #runsaway
>

Click the link below to go to...
PICTURES: Stella Damasus and Daniel Ademinokan what are they Upto?
I'll give $2,000 to anyone or group of persons who are in the possession of my missing digital camera---Kas
Osaze, Wife Welcome First Child
PHOTOS: Rita Ora & Snoop Dogg Party In Thailand
Segun Arinze Has the Sexiest Eyeballs in Nollywood
Shocking Earnings Of Yoruba Movie Stars
Why Oluwagbemisola Shotade, Miss Tourism United Nations won't have s*x for a year