PDP apologises to Obasanjo as Gbenga Daniel rejoins party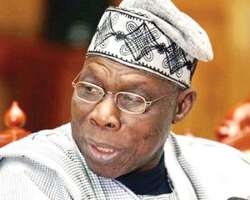 The National leadership of the Peoples Democratic Party (PDP) yesterday in Abuja made very serious appeal to former President Olusegun Obasanjo to forgive the party for all mistakes made and continue to discharge his leadership responsibilities to all members.
  National Chairman of the PDP, Ahmed Adamu Muazu who spoke at the party's national secretariat while receiving former Ogun State governor, Gbenga Daniel, to the party stated that the PDP seriously apologised to Obasanjo for all the mistakes made in the past. According to him, the PDP family needs Obasanjo's fatherly care at the moment.
 Muazu said: '' Chief Obasanjo is a pragmatic leader. All of us must beg Obasanjo to forgive us. We need to beg him. He is very prayerful and we need to ask him to forgive us as we said in our prayers that forgive us so that we can be forgiven. We are your children. We have made mistakes and we say Baba, please forgive us. Come and lead us. We are your followers and we assure you that we are all good boys and girls. We have sinned. Baba please forgive us.
'Obasanjo must forgive us; I know he is prayerful and we need him to be on our side as his children; We are your children; we made mistakes and we have apologised to you, even the President is waiting for you to back and lead us.'
  The need for the apology had earlier been made by Daniel who explained that he had to apologise to Obasanjo for whatever wrong he had done against the former president in the past. 'I want to seize this opportunity to apologise to our father, Baba Obasanjo. The son can never be right. So I am apologising and pleading with him not to abandon his children,' Daniel said.
 In his own remark, the Senate President, David Mark, who is also the chairman of the PDP integration committee for the South West, applauded the apology tendered to Obasanjo, pointing out that the PDP family needs Obasanjo so much to be able to stand strong.
Mark said: 'Daniel is right to say that older persons are always right. All of us in the PDP are begging Baba Obasanjo to forgive us even if he is annoyed with us. We truly apologise to him. He should forgive us because he cannot throw us away; He will have to forgive us and make sure we are not sheep without shepherd.'
On the return of Daniel to PDP, Muazu accepted his request for automatic waivers for all those defecting to the PDP, adding, however, that all defecting members must apply for the waivers.
Mark was very frank in asking the party leadership to ensure that the principle of fairness and equality is applied to keep the enlarged PDP family intact. - Guardian.