Jarule Replies Critics, Predicts Extinction Of Pure Black Race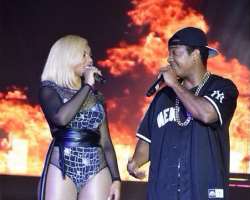 Last week, American artistes, Jarule and Ashanti were in Nigeria to thrill some of their fans. But after performing at the 'Warri Again', the rapper has come under criticisms by some Americans.
Jarule and Ashanti were mocked after performing their duet at the show, which was described as cheap, bootleg form of Beyonce and Jay Z's recently concluded 'On The Run Tour.'
One of the critics wrote, "Why are Ja rule and Ashanti trying to copy J & Queen Bee?!?!?!", while another said, "These folk said Ja & Ashanti look like the Great Value version of On The Run— Jared 'Jay B.' Boyd
But Jarule wasted no time in replying critics, stating that he got paid for the days he spent in the country.
In his response, Jarule wrote, "Y'all funny as shit the bootleg on the run lmfao one week they love u next week they hate u both weeks I got paid!"
He further predicted that "in 100 years, there will be no more PURE black people!!!"
At the show, several Nigerian artistes and comedians thrilled fans.